---
SWEATER CAPE s-m, FAUX LEATHER LEGGINGS s, Jeffrey Campbell Boots (old; SIMILAR), SATCHEL, FACE MASK m
---
The most confident people can pull off any look, because it's not really what's being worn, but how it's being worn.
This sweater initially went in the "meh" pile when I first tried it on. I didn't hate it, but I also didn't love it. It was one of those pieces that looked cute online, and on other people, but didn't seem to look right on me when I tried it on.
For one, it's actually a lot more green than the picture depicts (TBH, even though it says Army Green in the name, I thought it was going to be black and white). And secondly, it's more wide than it is long, and there's no distinguishable front or back. So when I tried it on I was a little underwhelmed. I wore it out anyway and to me, it was pretty forgettable.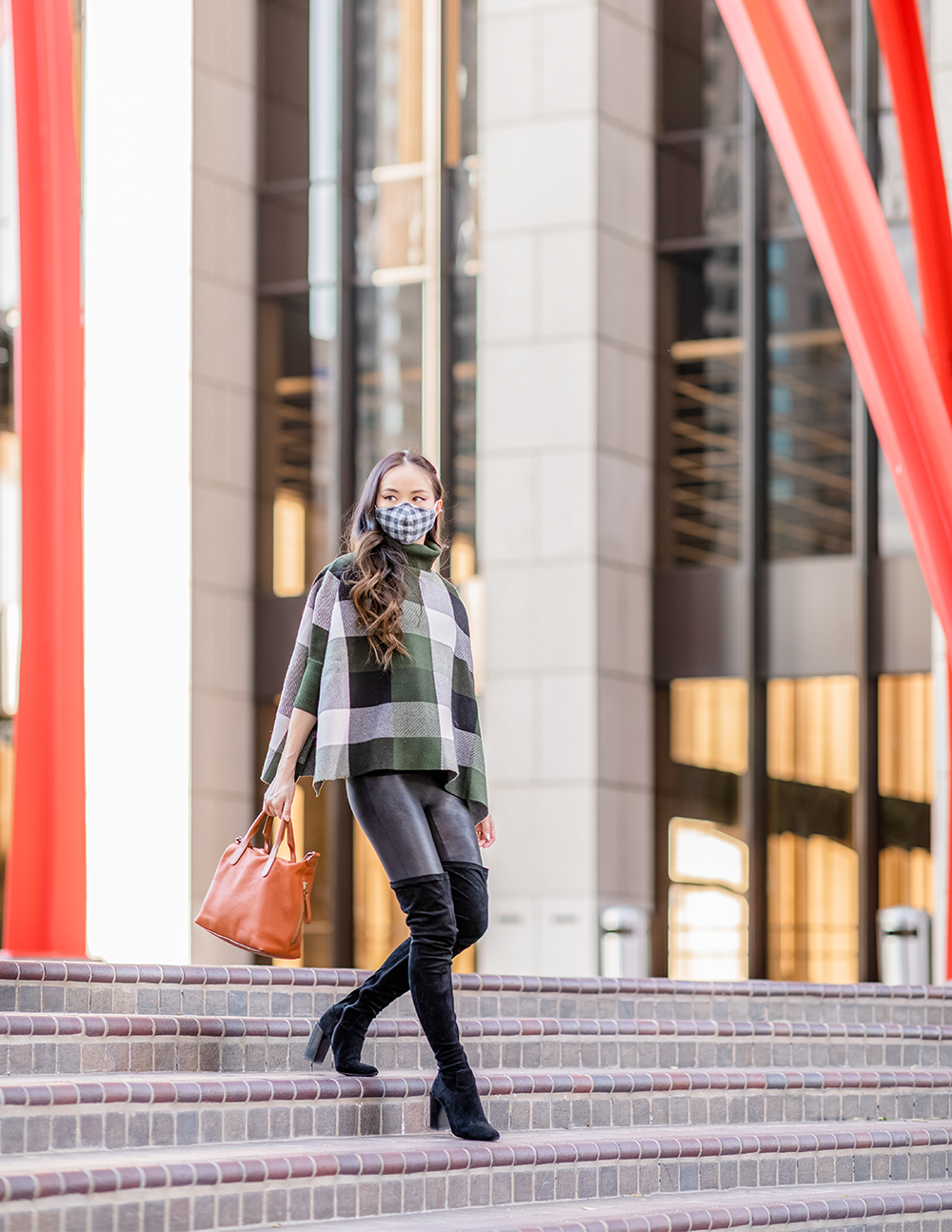 BUT THEN, on a day when I was taking a bunch of outfit pictures, I threw this one on again so I could at least get some pictures in it, and as soon as I stepped out of the car (yes, I changed in the car), and before I could say my signature line: "I have no idea how to wear this," my husband said "WHOA." For the record, my husband hardly ever "whoas" anything, me included. So that was a surprise and made me reconsider my first impression on the sweater and the outfit as a whole.
Turns out, I just wasn't wearing it right the first time. And I don't mean that I had it on backwards or inside out or something. I mean, because I had made up my mind right off the bat that it wasn't anything great, that reflected in how I wore it, and how I felt when wearing it. And that's why the outfit didn't work.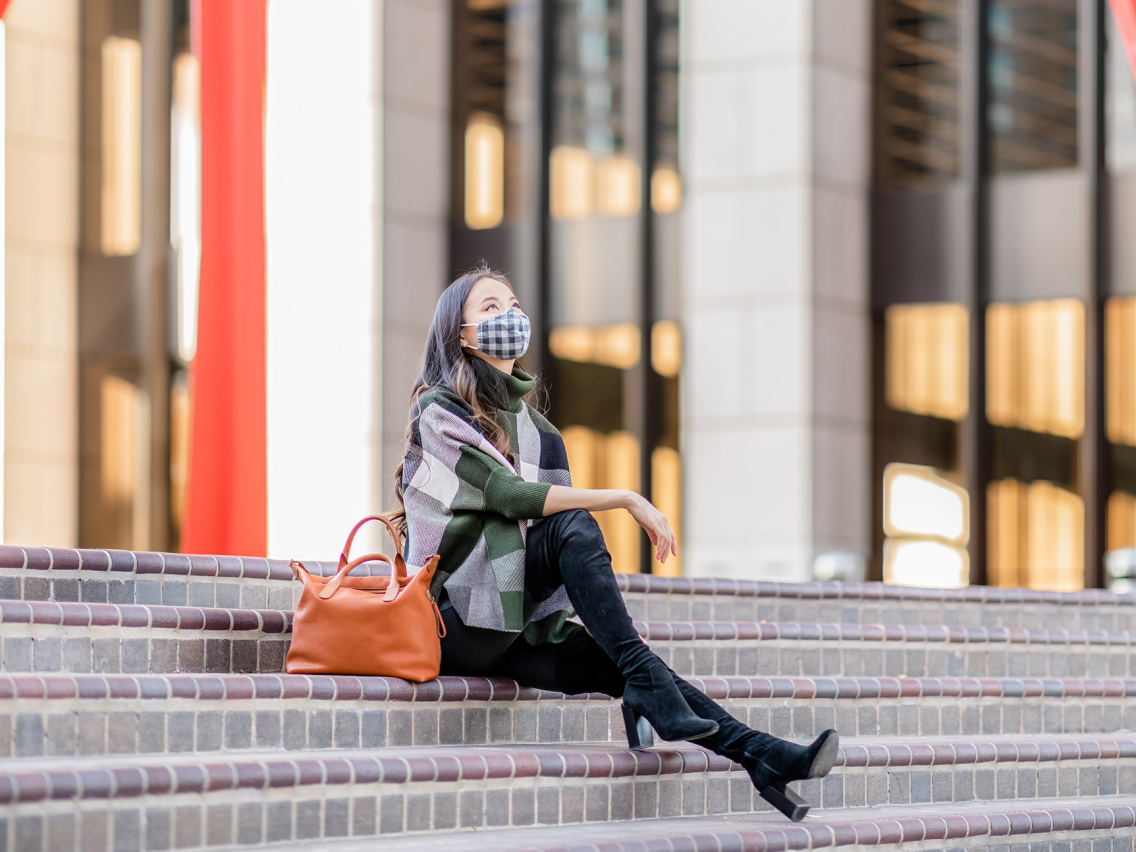 But by having a slight shift in attitude (and confidence), the sweater went from "meh" to "whoa". It went from a "I guess I'll throw this on because I have nothing else to wear" to a "Where's that sweater, I feel like turning some heads?" I then went on strutting around town with much more confidence. The most confident people can pull off any look, because it's not really what's being worn, but how it's being worn.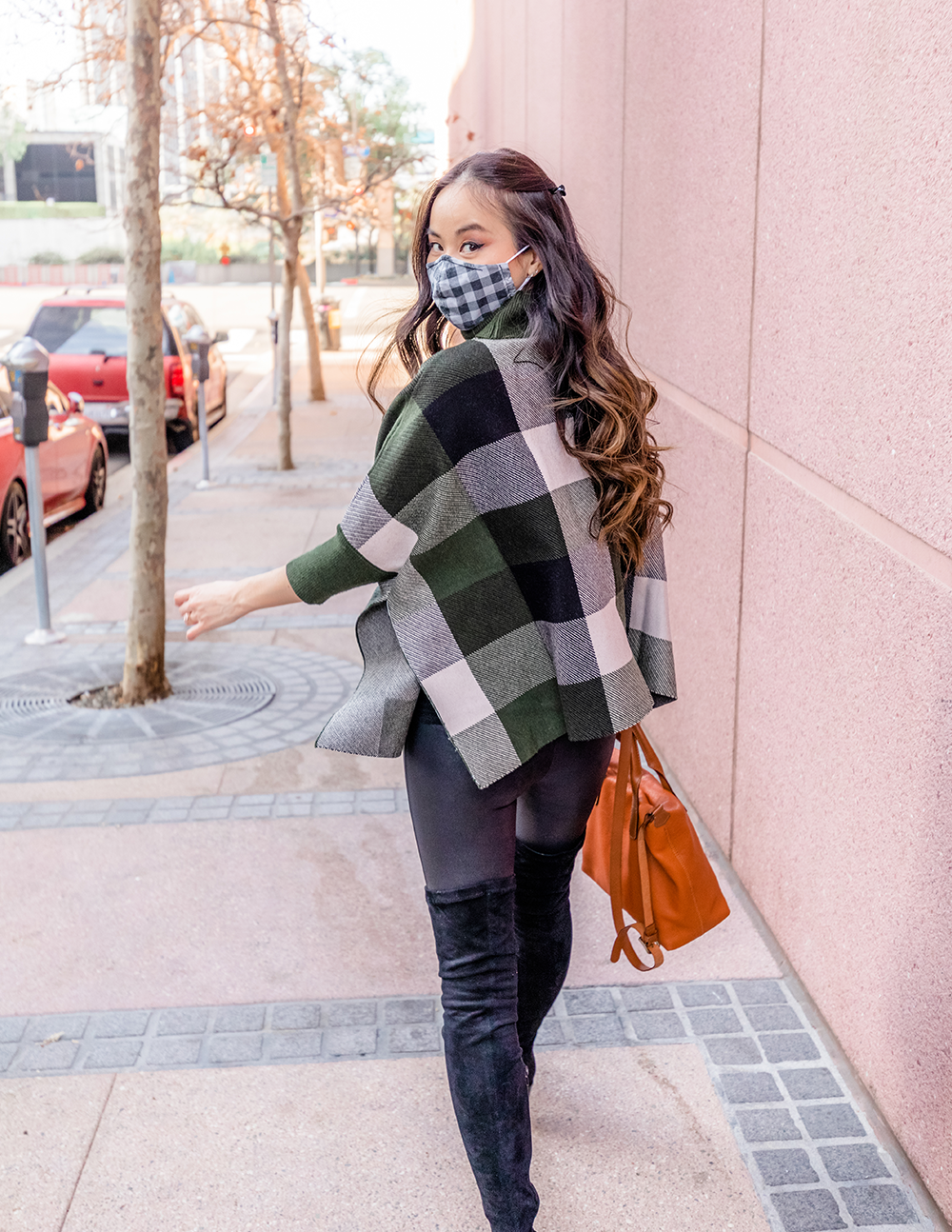 Now I know this whole time I've been calling it a sweater, but because there are slits on either side, it fits more like a cape or poncho (again, it's right there in the name that I didn't really pay attention to). Therefore, it can't really be worn on it's own, unless you want to feel a cool breeze wafting across your torso. I just wore a black t-shirt underneath to keep the breeze out.
I also paired it with my favorite faux leather Spanx leggings (also seen here) and a pair of over-the-knee block heel suede boots. These ones from Jeffrey Campbell are my go-to specifically because of the block heel. I find them much easier to walk in than stilettos, but look fancier than flats. They're about 4 years old, so I linked something similar. I LOVE thigh high boots, and just like the leggings, you're going to be seeing a lot of them!
as always,